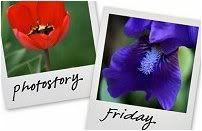 Hosted by
Cecily
and
MamaGeek
A little while ago I mentioned some photos I took involving "bokeh". Bokeh comes from the Japanese word for blur and refers to the out-of-focus parts of a photograph. Personally, I am a huge fan of bokeh. I just love how it makes the subject of your photo really stand out from the background. Hopefully I'll have time this weekend to start my "Photography 101" posts because the second lesson will be about Aperture settings, which is the technical part of photography that allows you to change the range of focus in a photo. In other words, after my second photography lesson and a little craftiness with some carstock paper, you'll be able to create this effect too.
Now. I-for-one prefer photos that look as natural as possible. I love the look of interesting post-processing actions on other people's photos, but I prefer straight up and straight out of the camera for mine. The photos I post are usually almost exactly as they came out of my camera, except for the occasional levels adjustment (usually to compensate for the total lack of natural light most of the time here in Vancouver!)
Anyway, my point is that I don't particularly care for all sorts of tricks of photography, but I do love to experiment and learn, so when I saw a post on heart-shaped bokeh on Flickr, I was determined to re-create the look. I don't plan on taking many more photos like this, but it was fun to successfully re-create the effect. I do think this will be really cool at Christmas time with some star cut outs or other fun shapes.
I could write a huge long post about how I achieved this effect, but there is no sense re-inventing the wheel, so check out the Do-It-Yourself page on the heart-shaped bokeh effect here. Be sure to scroll all the way to the bottom to see the effect with different cut out shapes.
Anyway... enough talk. Check out my heart-shaped bokeh. As usual, click to enlarge. See the hearty shapes behind all of the flowers? I did not do those in photoshop. With the help of the heart shaped lens hood described on the Do-It-Yourself page, the photos came out of the camera like this. How fun eh? I also took a few of Csilla with hearts all around her. They were super sweet too. Enjoy. After the photos here, I've writen some extra technical tips to help you do this too. And if you do, be sure to post your results. I'd love to see your take on the effect.
(All of these were taken with my 50mm f/1.8 lens on Aperture priority at f/1.8, except the last one of the purple iris, which was taken at f/2.2.)
Some technical hints - I found this worked best when the cardstock lens hood I made fit snuggly and had lots of tape on it to keep light out. Make sure the hood is a complete sheath for the lens, instead of just being taped to the lens, otherwise the lens can't still move and focus. I haven't tried this on lenses other than my 50mm. Apparently a 50mm lens at your lowest aperture setting works best, although I really like the way the last photo here turned out at f/2.2.
The trick is getting a well-lit object in the foreground, while having speckled light in your background that becomes blurred on a lower aperture setting. The flowers in Linda's garden had bushes behind most of them, which provided multiple points of light. It worked well.
Here's what happens when you don't push the heart-shaped lens hood all the way back on the lens and bump up the aperture setting to f/14:
Strange, but kind of cool too. Anyway, have fun with it and be sure to let me know if you try it out.