I am loving photography right now. And guess what? I think it shows because just two days ago I received an invitation from MamaGeek to join a new weekly post called Photostory Friday. In her email, Mama Geek wrote the sentence, "You're so talented, you'd be perfect for it!" Well knock me over with a feather. I am so flattered. Yes! Of course I'll participate. Seeing as how I'm very new to photography, for anyone to say I'm talented is extremely flattering.
And that's the thing... ever since posting more and more photos on my blog, people have been incredibly complimentary. It's wonderful. Especially coming from other amazing photographers like MamaGeek, Corey, Jenty, Angella, JC, David and a few others (I'm sorry if I'm forgetting you at this exact moment). This whole blogging thing is so awesomely supportive! I love it.
I swear Mama Geek created Photostory Friday just for me because there is almost no way in hell I can post a photo and not write a story to go with it. Have you ever noticed that I never post for "Wordless Wednesday"?
Wordless? Are you kidding? A complete impossibility for me. I like stories. So here goes. My first Photostory Friday post: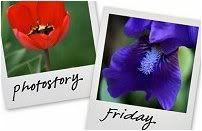 Hosted by
Cecily
and
MamaGeek
Every Wednesday Bendy Linda and I drop off our girls at preschool and walk to a nearby deli that makes the best sandwiches you could ever imagine. As luck would have it, I had my camera on hand this week and couldn't resist taking a photo of sandwich perfection:
The bread is a fresh baked baguette that is not too crunchy and not too soft. Delicious. Inside the bread is a wonderful concoction of marinated eggplant, roasted red peppers, edam cheese, tomatoes, roast chicken, lettuce and a little bit of mayo that mixes all perfect and drippy with the marinade of the veggies. I don't know how to describe the marinade, but it's got a Mediterranean vibe that is oh-so delicious!
Along with the sandwich, Linda and I always get a hot chocolate at Delaney's. I used to be a hard-core Starbucks hot chocolate aficionado, but Delaney's puts chocolate whipped cream on their hot chocolate... so bye-bye Starbucks and hello Delaney's! Chocolate on top of chocolate? Are you kidding me? It's almost better than sex!

Sorry I don't have a photo of the chocolate whipped cream, but I ate it before I hauled out the camera. I just couldn't wait!
While Linda and I were noshing on our yummy food, this little cutie stopped by to say hello. And for the record, that's not some of my sandwich in the little guy's mouth. I wouldn't share my sandwich. No way! He found a piece of somebody's muffin on the ground instead.
And finally, while Linda and I were walking back to preschool to pick up our girls I walked by the window of the local butcher and snapped this photo:
I just love the way the tin cans are always stacked up so neatly in this window. It's almost like art to me - all graphic and colourful. I love it. Does that make me weird?
And that was my first Photostory Friday post. Hope you enjoyed having lunch with me. Thanks for inviting me MamaGeek!!
One other thing. Today is Friday, which means another weekly food tradition for me. Balazs will be bringing home sushi tonight. Yum!! Perhaps I'll have to bust out my camera at dinner and show you some of the best sushi I've ever had.
Now tell me... do you have any favourite food routines that you look forward to each week?