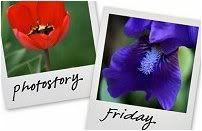 Hosted by
Cecily
and
MamaGeek
Last week Csilla and I went over to Bendy Linda's house for a playdate with her daughter, N after preschool. Linda and I were enjoying the girls playing nicely together while we both had our cameras out trying to capture the gorgeousenss of Linda's garden. I had a lot of fun playing with a techique used to create heart shaped "bokeh" in photos. I'll post about it this weekend (if I'm not too busy).
In the meantime, I'd like to share three gorgeous roses from Linda's garden. Aren't these just outstanding? The pink one reminds me of something you might see Nicole Kidman wear to the Oscars. I just love it!
Happy Photostory Friday everybody.
(click to enlarge)

For each of these photos I had on Linda's awesome macro lens. I'm not sure exactly what kind it was and unfortunately it's not showing up in my shooting data, so I can't tell you. But it was great. I so want my own marco lens. Maybe I'll put it on my birthday wish list, but I don't know if I can wait until September!
And to Jan - we really did stop and smell them too! The pink one had an especially amazing fragrance.