Hey you all! Thanks for all the wonderfully helpful comments left on my last post. Having a really big rant has helped me to feel at least a little bit better and I'm only half as grumpy as I was two days ago. The weather is still horrible and my mother just informed me that this is officially the coldest June in Vancouver on record. The Coldest Ever. I knew I wasn't just imagining things. Apparently the sun was out for about five minutes this morning at 6:30am. Damn. I missed it. But I shouldn't complain. I should try to remember what Csilla told me the other day when I said I was mad about the weather.
She said, "That's silly Mama! You can't be mad at the weather. It's not even a person!"
So. Okay. Let me get this straight. I can't be mad at the weather, but it's okay to be mad at people. We sure are doing a great job of raising this kid. Yup.
And now for something more fun than complaining about the weather. Photostory Friday: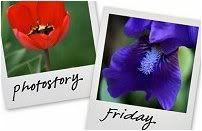 Hosted by
Cecily
and
MamaGeek
On Wednesday it was pouring rain (what's new), so I bundled up Csilla in rain gear and let her go nuts in a few puddles. I guess if you can't beat 'em, join 'em, eh?
I've been trying to learn how to stop motion with my camera. Splashing water is perfect for practicing with and Csilla was only too happy to oblige. At first when I told her to jump higher and splash more she was a little cautious. I'm usually telling her to try and stay dry so she doesn't get too cold. But this time I told her to go nuts. She had a blast splashing about. We both got completely soaked. I literally poured the water out of her boots when we were finished. Despite the freezing rain, we both had fun and I got a few shots I liked; including this one (click to enlarge):
For those of you interested in the photography side of this - I shot it with my Nikon D70s. I had on my brother's 85mm F/1.8 lens. Shutter speed was set to 1/2500, Aperture F/1.8 and ISO 450. I also had on my handy-dandy rain sleeve to keep the camera dry. Click here to see what a rain sleeve is. I highly recommend one of these for shooting in the rain.
Anyway, thanks for reading. I've got a busy weekend ahead of me, but I'm hoping to catch up on a least a few of your blogs. Don't be surprised if several comments roll in from me around midnight on Saturday. Hope you all have a wonderful SUNNY weekend!