It's Friday again. Wow. Time flies. I've got a busy weekend ahead of me so I won't be on the computer much. I apologize in advance for not stopping by all of your blogs. I guess I have to be honest with myself and officially say that I am not a summertime blogger. When the sun is shining and the weather is warm, it seems just plain wrong to spend any time inside on the computer. Oh well. I refuse to feel guilty about how I'm neglecting all of my lovely blogging friends. You understand, right?
Tomorrow we're driving down to Point Roberts, Washington to visit my aunt and uncle. They are two of the nicest people on the planet and I can't wait to spend some time with them at the beach. It's going to be a great day. Can't wait!
On Sunday I'm getting together with one of my best friends for a maternity photo shoot. She's been kind enough to agree to let me take pictures of her big beautiful belly. It should be lots of fun. I'm both nervous and excited because I want the results to be amazing for her. Let's hope I can translate all of my photographic bright ideas into something worth putting in a frame on the mantel. Whatever the results I know I'll have lots of fun trying. Can't wait!
And now for something really exciting. Another Photostory Friday post, this time featuring actual photographs of Csilla.
Wow!!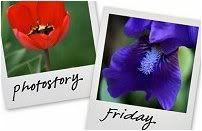 Hosted by
Cecily
and
MamaGeek
Yesterday Csilla and I took a walk to the park behind our house. It's kind of a crappy little park, but the swings are always fun and Csilla just loves to swing, so who cares if the jungle gym is lame.
Of course, play time for Csilla is always play time for Mama when I have my camera in hand. I've been trying to figure out how to do a cool technique with motion blur that my dad has successfully accomplished while shooting F1 car races and my brother has successfully accomplished while shooting cycling races. The idea is that you pan your camera with a long shutter speed while keeping your focus on the subject. The result is that the background is motion blurred, while your subject is not.
As Csilla swung back and forth I tried to do this, but as you can see from my results I was not exactly successful. Ideally, Csilla should be totally sharp. Oh well. Maybe it's easier with cars and bikes!!
(For the photo techie-types out there: Nikon D70s, 18mm-70mm lens, focal length 18mm, shutter priority, 1/6s, f/16, ISO 200.)
This next photo I took with my dad's "fisheye" lens. It's ultra-super-wide and makes everything look extra huge. I just love how it makes Csilla look all small and sweet in such a big big world. I know it doesn't look like it, but in actuality I was only about 2 feet behind Csilla. Maybe less. I know it looks like I was further, but the fisheye lens is so wide that it's hard to keep your own feet out of the shot. Anyway, it was sure fun to play with that lens. Thanks Dad!!
(Again, for the photo techie-types: Nikon D70s, 16mm f/2.8 fisheye lens, aperture priority, 1/125s, f/3.5, ISO 200.)
That's it for now. I have laundry to do. Thanks for looking (and sorry these weren't actual face-forward photos of Csilla showing her off in all her cuteness and glory, but I'm protective like that!)