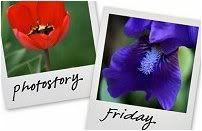 Hosted by
Cecily
and
MamaGeek
Eeeeek. It's almost midnight and I nearly forgot my Photostory Friday post. I better type quick and keep it brief. I haven't missed one yet.

Below are some photos I took this week of the paragliders that jump off the mountain near our home. Csilla just loves them and gets so excited when she sees the gliders in the sky. They always fly in the late afternoon. I assume the wind or the updrafts or the current (or something?) are just right at that time of day because it's the only time we ever see them. They land in a field not far from our home, so I think I'll make a point this week of taking Csilla to the field to watch them glide in. We did it last summer and Csilla's face was stunned when we talked to one of the gliding instructors who had just dropped from the sky. She looked as though she was meeting some sort of magical flying God. It was adorable. (And it didn't hurt for Mama that he was cute too!)

As for the photos...

I just loved the pair flying in tandem in the first few shots. It was like a beautiful dance in the sky.

And then, just as the twosome disappeared behind the trees, the next daredevil came swooping in. He/she was doing the most amazing loop-dee-loops all over the sky. It was very exciting to watch. I was almost fearful that something was wrong because he/she was all over the place.

You can see from the last shot how close they are to us. Even though I shot this with my zoom lens, the tree in the foreground is at the foot of our driveway and the glider was not so far beyond that.

Anyway... we just love to see the paragliders every summer. Hope you've enjoyed them too. Happy PSF!