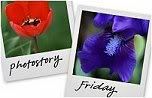 Hosted by
Cecily
and
MamaGeek
This is what I ate for breakfast today:
Any guesses what day it is?
Here. I'll give you a couple of hints:
Yep. It's my birthday today. And I ate cupcakes for breakfast.
And after I finished my cupcakes I had some more cake. This time, my mom's incredibly delicious Sour Cream Coffee Cake (recipe posted below):
With a glass of milk, just to keep it healthy.
Cake (followed by cake) for breakfast. Talk about a good day!
(Click to enlarge the photos, eh!)