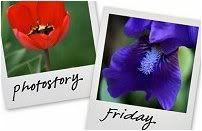 Hosted by
Cecily
and
MamaGeek
Okay. So according to the sprinkling of comments I received on my last post it turns out that some of you remember me. What a relief. I thought I was going to have to start at square one again with this blog...
Thanks. I've missed you all!
Remember a while ago (before I went to Hungary) I mentioned something that was keeping me very busy? I eluded to it here and teased you about it again here?
Well, I'm thinking my "big number nine announcement" would make for the perfect Photostory Friday post.
So here goes.
I decided to start my own photography business.
Yes.
Crazy I know, because what I know about photography I could fit in a thimble. And crazy I know because I'm not the first best (or even the second best) photographer in my immediate family. And crazy I know because I only got my first DSLR less than a year ago and before that I didn't know much about photography at all. I know, I know.
Crazy I know.
But since I love photography as much as I do and friends keep telling me I should have people to pay me to do what I love (as much as I do) then I got to thinking, "What's the worst that can happen?"
Well, let's see...
I could forget to bring a spare battery and stand in front of my client like an idiot, totally unable to take a single photo. Or, I could get so confused by all of the technical aspects of photography that I completely forget how to relax and enjoy the process. Or, I could get so nervous that my clients see right though all of my inexperience and refuse to pay me...
In other words, I could fail miserably; screwing up people's precious and irretrievable memories.
Urp.
I know, I know. These things could happen, but luckily, none of these things have happened so far. Congratulations to me! (Did I have you worried that those things had actually happened?)
I've already been on several shoots with friends (some of whom have actually paid me!) and all of them worked out beautifully. In fact, I'm really proud of my work so far and I'm ready to share it with all of you.
So without further ado... click the banner below to see why I've been too busy to blog lately (notwithstanding a three-week trip to Hungary, about which I will hopefully post this weekend).
Oh. And as far as Photostory Friday goes... you will find actual photos here:
Hope you like what you see!